Help Us Out With Our Ownership Transition in Oakland
UPDATE: The IndieGoGo campaign has closed. Thanks, everybody, for your support. Please contact Brad directly if you're interested in participating in the $1,000+ loan program.
As longtime owners of DIESEL, A Bookstore here in Oakland, Alison Reid and John Evans have seen the industry grow, become threatened, and rise again. One lesson they've learned: if you don't shake things up yourself, it's only a matter of time before somebody else shakes it up for you. They believe they've found in Brad Johnson not only a bookseller they could mold into the current store manager, but one to whom they'd like to sell the store. He could use your help make this happen!
Short Summary
For over 25 years, DIESEL, A Bookstore has been a vital part of the literary and cultural fabric woven here in the East Bay. We've been a community sounding board. A safe place. A discovery zone. In short, one of the best damn neighborhood bookstores here or anywhere. Yes, we may be proud about that, but it's never been just about us: this is YOUR neighborhood bookstore, after all.
The East Bay is a complex place, but one of the constants is that it is always changing. People come and they go. Industries are in and then they're out. The ground moves beneath our very feet! The other constant is this: we rally together in the jolt of it all. (This is all the more true in the face of the current political situation. We need one another more than ever!)
So, yes ... it is not enough for we at DIESEL to be excited about this change. We need you to be, too! We're in this together, after all. With your help, East Bay Booksellers will be born.
* * *
Who Are We?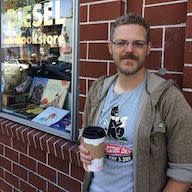 That's me over there, Brad Johnson. If you've been a regular DIESEL shopper for a while, you've probably seen some variation of this photo: me at the store, coffee in hand (or not far from my hand). For much of my adult life I pursued academia -- I wasn't expecting bookselling to pursue me instead. It didn't take long for me to realize this is what I was meant to do. (For more details, see a biographical piece I wrote for Literary Hub, "From the Seminary to the Bookstore.")
Let's get specific, though. I'm talking about bookselling in the East Bay! Sure, the whole Bay Area is changing. We all know this. And yet, there remains a strong intellectual and empathetic energy in the East Bay, an enduring sense of "I got your back" community, that makes our independent bookstore scene an envy of much of the country.
* * *
Frequently Asked Questions
Why is DIESEL changing ownership? Alison Reid and John Evans (the owners of DIESEL, A Bookstore -- in Oakland, Brentwood and Larkspur) are right now only looking to sell the Oakland store ... to one person, and that's Brad Johnson. Lots of reasons can be stated, but they all basically boil down to their recognition of themselves (as booksellers) in him. He is passionate and smart about the role in a way they respect, and they think he will carry DIESEL's legacy forward in a vibrant, new way.
Okay, but why the change of name to East Bay Booksellers? DIESEL's other two locations are not on the market, and will remain the same. Thus, the practical need for a new name. East Bay Booksellers is a declaration of identity -- that where we are matters as much as what we do. You won't meet many people as passionate about this relationship between place and profession as Brad.
How much money do you need to raise? DIESEL is known throughout the East Bay (and the bookselling world in general) as having an impeccably curated, diverse collection of books. East Bay Booksellers will be no different. We hope always to have the books you come in looking for, but our biggest pleasure is when you discover something you didn't even know existed. In our experience, it takes about $200,000, for the inventory and proper capitalization. A significant portion of this has been raised through a community lending campaign. Friends and neighbors have asked us repeatedly for opportunities to donate smaller amounts. We still need about 25% of our goal: now's your chance to help!
* * *
The Impact
Good bookstores are not only profitable businesses, but are proven cultural institutions. It's taken a while, but the story of our impending demise is slowly being put to rest. Over the past seven years, independent bookstores have defied the reports of their demise. In fact, they are downright thriving.

I'm especially happy to participate in the Bay Area bookselling scene, not least because of the social stands it allows us to take. The current political situation is a profound shock on multiple levels. But it also deeply affirms what it is we do and stand for. The relief in peoples' eyes when I asked them in the days after the election, "How are you holding up?" cements to me the value of this space. It's a place of commerce, but our goods are ideas and empathy. Neighborhood bookstores offer intellectual sustenance to some; safe haven for others. Our core values are conversation and community — which means openness, diversity, and change. This is all the more true going forward.
* * *
Risks & Challenges
Naivety doesn't endure very long in the book business. Margins are tight. Costs are always rising. And the allure of discounts online (whose ultimate high costs are always hidden) cannot be denied. It's not an easy business.
The challenge may be a daily one, but so are the opportunities. We are committed to bookselling as a profession, rather than simply a job. It's easy to sell the same bestseller to everybody who walks in the door. (Especially when they come in looking for it.) Listening to people first, and recommending second -- that's the art of what we do, and it is one of the reasons we stock such a diverse array of books. There is no one-size-fits-all book. There's no algorithm for the associative feeling you get from reading a book while you're in and out of love. There are, thankfully, flesh-and-blood booksellers who have gone through the same.
* * *
Other Ways You Can Help
We know that these are trying times, and donation dollars can sometimes get spread a bit thin. If you're not in a position to help financially, your enthusiasm for what we have cooking here in the East Bay cannot be understated. Help us spread the word about the campaign! And when time comes for the doors to open as East Bay Booksellers, come by and say hi. We look forward to your contribution to the store's latest chapter.