Dark Horse: An Orphan X Novel (CD-Audio)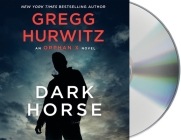 $39.99

Not On Our Shelves - Available within 1 to 5 Days
Other Books in Series
This is book number 7 in the Orphan X series.
Description
---
*NEW YORK TIMES BESTSELLER*

The New York Times bestselling series returns when Orphan X faces his most challenging mission ever in Gregg Hurwitz's Dark Horse.

This audiobook includes a bonus conversation between the author and Jack Carr.

Evan Smoak is a man with many identities and a challenging past. As Orphan X, he was a government assassin for the off-the-books Orphan Program. After he broke with the Program, he adopted a new name and a new mission—The Nowhere Man, helping the most desperate in their times of trouble. Having just survived an attack on his life, and the complete devastation of his base of operations, as well as his complicated (and deepening) relationship with his neighbor Mia Hall, Evan isn't interested in taking on a new mission. But one finds him anyway.

Aragon Urrea is a kingpin of a major drug-dealing operation in South Texas. He's also the patron of the local area—suppyling employment in legitimate operations, providing help to the helpless, a rough justice to the downtrodden, and a future to a people normally with little hope. He's complicated—a not completely good man, who does bad things for often good reasons. However, for all his money and power, he is helpless when one of the most vicious cartels kidnaps his innocent eighteen year old daughter, spiriting her away into the armored complex that is their headquarters in Mexico. With no other way to rescue his daughter, he turns to The Nowhere Man.

Now not only must Evan figure out how to get into the impregnable fortress of a heavily armed, deeply paranoid cartel leader, but he must decide if he should help a very bad man—no matter how just the cause.

A Macmillan Audio production from Minotaur Books.
About the Author
---
GREGG HURWITZ is the author of the
New York Times
bestselling Orphan X novels. Critically acclaimed, his novels have been international bestsellers, graced top ten lists, and have been published in thirty-two languages. Additionally, he's sold scripts to many of the major studios, and written, developed, and produced television for various networks. Hurwitz lives in Los Angeles.
Scott Brick first began narrating audiobooks in 2000, and after recording almost 400 titles in five years, AudioFile magazine named Brick a Golden Voice and "one of the fastest-rising stars in the audiobook galaxy." He has read a number of titles in Frank Herbert's bestselling Dune series, and he won the 2003 Science Fiction Audie Award for Dune: The Butlerian Jihad. Brick has narrated for many popular authors, including Michael Pollan, Joseph Finder, Tom Clancy, and Ayn Rand. He has also won over 40 AudioFile Earphones Awards and the AudioFile award for Best Voice in Mystery and Suspense 2011. In 2007, Brick was named Publishers Weekly's Narrator of the Year.

 Brick has performed on film, television and radio. He appeared on stage throughout the United States in productions of Cyrano, Hamlet, Macbeth and other plays. In addition to his acting work, Brick choreographs fight sequences, and was a combatant in films including Romeo and Juliet, The Fantasticks and Robin Hood: Men in Tights. He has also been hired by Morgan Freeman to write the screenplay adaptation of Arthur C. Clarke's Rendezvous with Rama.