McGraw-Hill Education ASVAB 2-Book Value Pack (Hardcover)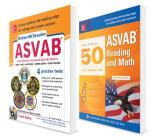 $43.00
Email or call for price
Description
---
Two popular ASVAB titles provide complete exam readiness
The ASVAB 2-Book Value Pack brings together two popular MHE titles on preparing for this important test, ASVAB with DVD and Top 50 Skills For A Top Score: ASVAB Reading and Math with DVD, providing a significant discount off the cover prices.
McGraw-Hill Education's ASVAB with DVD, Fourth Edition includes reviews of all subjects tested, tips and strategies for answering specific question types, sample exams modeled on the real exam, an answer key with complete explanations for every question, and inside information on ASVAB testing, scoring, and pursuing a military career.
- 4 full-length ASVAB practice tests
- Expanded review and practice for the challenging Assembling Objects section
- In-depth review of all test subjects, from algebra to shop tools
- Proven strategies for the ASVAB subtests that determine eligibility for enlistment and job training programs
- Actual ASVAB test directions, answer sheets, and score reports
- The latest information from the Department of Defense and the military
- Answers to common questions about military enlistment and jobs
Top 50 Skills For A Top Score: ASVAB Reading and Math with DVD provides inside tips from an ASVAB expert. Dr. Janet Wall teaches 50 easy-to-master reading and math skills that will add points to your score. You will get focused instructions, practical exercises, pre- and posttests to identify your strengths and weaknesses and check your progress, and two full-length practice tests on DVD.
- The latest information on taking the ASVAB and how test scores are used by the military
- 50 essential skills with step-by-step practice exercises
- A pretest to identify weaknesses and a posttest to track progress
- Strategies for answering every type of ASVAB reading and math question
- DVD with 2 full-length practice tests

About the Author
---
Dr. Janet E. Wall, National Career Development Association Fellow, was the manager of the ASVAB Career Exploration Program for the Department of Defense. She has also served as president of the Association for Assessment in Counseling and Education (AACE).