The Marriage Plot: A Novel (CD-Audio)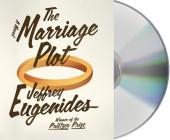 $39.99
Email or call for price
November 2011 Indie Next List
---
"Have all the great love stories already been written? What relevance do Jane Austen or George Eliot have for today's woman? In the 1980s, Madeline is wrestling with these questions both for her college thesis and as a woman fielding the attentions of two young men. Leonard is charismatic, flawed, and tragic, so Madeline is, of course, drawn to him; Mitchell is a seeker who is trying to figure out how he fits into the general scheme of the universe, and he is totally smitten by Madeline. Eugenides has brilliantly succeeded in writing a new love story for our times!"
— Deon Stonehouse, Sunriver Books, Sunriver, OR
Description
---
A New York Times Notable Book of 2011
A Publisher's Weekly Top 10 Book of 2011
A Kirkus Reviews Top 25 Best Fiction of 2011 Title
One of Library Journal's Best Books of 2011
A Salon Best Fiction of 2011 title
One of The Telegraph's Best Fiction Books of the Year 2011

It's the early 1980s—the country is in a deep recession, and life after college is harder than ever. In the cafés on College Hill, the wised-up kids are inhaling Derrida and listening to Talking Heads. But Madeleine Hanna, dutiful English major, is writing her senior thesis on Jane Austen and George Eliot, purveyors of the marriage plot that lies at the heart of the greatest English novels.

As Madeleine tries to understand why "it became laughable to read writers like Cheever and Updike, who wrote about the suburbia Madeleine and most of her friends had grown up in, in favor of reading the Marquis de Sade, who wrote about deflowering virgins in eighteenth-century France," real life, in the form of two very different guys, intervenes. Leonard Bankhead—charismatic loner, college Darwinist, and lost Portland boy—suddenly turns up in a semiotics seminar, and soon Madeleine finds herself in a highly charged erotic and intellectual relationship with him. At the same time, her old "friend" Mitchell Grammaticus—who's been reading Christian mysticism and generally acting strange—resurfaces, obsessed with the idea that Madeleine is destined to be his mate.

Over the next year, as the members of the triangle in this amazing, spellbinding novel graduate from college and enter the real world, events force them to reevaluate everything they learned in school. Leonard and Madeleine move to a biology Laboratory on Cape Cod, but can't escape the secret responsible for Leonard's seemingly inexhaustible energy and plunging moods. And Mitchell, traveling around the world to get Madeleine out of his mind, finds himself face-to-face with ultimate questions about the meaning of life, the existence of God, and the true nature of love.

Are the great love stories of the nineteenth century dead? Or can there be a new story, written for today and alive to the realities of feminism, sexual freedom, prenups, and divorce? With devastating wit and an abiding understanding of and affection for his characters, Jeffrey Eugenides revives the motivating energies of the Novel, while creating a story so contemporary and fresh that it reads like the intimate journal of our own lives.
About the Author
---
Jeffrey Eugenides
was born in Detroit and attended Brown and Stanford Universities. His first novel,
The Virgin Suicides
, was published by FSG to great acclaim in 1993, and he has received numerous awards for his work. In 2003, he received the Pulitzer Prize for his novel
Middlesex
(FSG, 2002), which was also a finalist for the National Book Critics Circle Award, the International IMPAC Dublin Literary Award, and France's Prix Médicis.
The Marriage Plot
(FSG, 2011) was a finalist for the National Book Critics Circle Award, and won both the Prix Fitzgerald and the Madame Figaro Literary Prize. His collection of short stories,
Fresh Complaint,
is from FSG (2017). Eugenides is a professor of creative writing in the Lewis Center for the Arts at Princeton.
David Pittu is a two-time Tony nominee, and has narrated over 36 audiobooks, including Donna Tartt's The Goldfinch, which earned an Audie for literary fiction and best male narrator. His other work includes The Marriage Plot by Jeffrey Eugenides and An American Spy by Olen Steinhauer. Pittu has also read for Rick Riordan, Ann Rice, and Keigo Higashino, among others.


Well-known for his work in theater, Pittu has appeared off-Broadway in LoveMusik and Is He Dead, for which he received his Tony nominations, as well as Parade, for which he earned a National Broadway Award for Best Actor in a Musical. He is also a writer, member, and director of the Atlantic Theater company. He lives in New York City.
Praise For…
---
"The sound of silk drawn across fine-grain sandpaper best describes David Pittu's voice in THE MARRIAGE PLOT, by Pulitzer Prize-winning novelist Jeffrey Eugenides...The talented Pittu rises to the occasion of this challenging work, rewarding the listener with a sense of satisfaction reserved for great works of literature." —AudioFile magazine, An Earphones Award Winner

"David Pittu brilliantly narrates this audio version of Eugenides' complex novel, whether he's rattling off quotes from Jacques Derrida and Roland Barthes or creating unique voices for the book's many characters. Among the standouts are his renditions of the slow and reflective Mitchell and Thurston, the star of the semiotics seminar who speaks in a falsely laconic and disinterested fashion to impress his classmates and professor… [Pittu] never runs out of voices for this large, global cast. The result is one of the best audiobooks of the year." —Publishers Weekly, starred review

"Make someone's holiday travels a little more enjoyable with the audio version of Jeffrey Eugenides' latest work, The Marriage Plot, a novel about 1980's college grads caught in a love triangle." —Entertainment Weekly, Gift Guide

"Pittu lends a calm – and slightly world-weary – air to this story of a romantic triangle among classic literature devotees." —The Los Angeles Times

"David Pittu did an excellent job reading the book, and I couldn't stop listening…If you want a highly charged discussion in your book club, pick this one." —The Record-Courier

"Theater actor David Pittu brings Eugenides' tale to life – you may feel like you're back in your favorite college-lit seminar" —Entertainment Weekly

"[Eugenides] gives us a truly contemporary look at the vagaries of love and the need to find yourself before you can find your mate…Narrator David Pittu does a fine job delineating each character." —BookPage

"The performance of the unabridged audiobook by David Pittu is full of energy; Pittu keeps the characters distinct and is able to deliver even the passages that are theory-heavy with enthusiasm." —Metapsychology Online Reviews

"Broadway veteran actor David Pittu brings unpretentious but perfect diction to the role of reader…It's much as you would like to hear it yourself in your mind's ear." —Capital

"Wry, engaging and beautifully constructed." —William Deresiewicz, The New York Times Book Review

"[The Marriage Plot] is sly, fun entertainment, a confection for English majors and book lovers . . . Mr. Eugenides brings the period into bright detail--the brands of beer, the music, the affectations--and his send-ups of the pretensions of chic undergraduate subcultures are hilarious and charmingly rendered . . . [His] most mature and accomplished book so far" —Sam Sacks, Wall Street Journal

"No one's more adept at channeling teenage angst than Jeffrey Eugenides. Not even J. D. Salinger . . . It's in mapping Mitchell's search for some sort of belief that might fill the spiritual hole in his heart and Madeleine's search for a way to turn her passion for literature into a vocation that this novel is at its most affecting, reminding us with uncommon understanding what it is to be young and idealistic, in pursuit of true love and in love with books and ideas." —Michiko Kakutani, The New York Times

"This is a story about being young and bright and lost, a story Americans have been telling since Hemingway's The Sun Also Rises. Our exceptionally well-read but largely untested graduates still wonder: How should I live my life? What can I really believe in? Whom should I love? Literature has provided a wide range of answers to those questions--Lose Lady Brett! Give up on Daisy! Go with Team Edward!--but in the end, novels aren't really very good guidebooks. Instead, they're a chance to exercise our moral imagination, and this one provides an exceptionally witty and poignant workout." —Ron Charles, The Washington Post

"If there is a writer to whom Eugenides appears connected, it is not Wallace but Jonathan Franzen. They are less than a year apart in age, and while Franzen got a head start, the two, who are both with the same publisher, are on similar publishing schedules. Last year, Franzen's Freedom was a bestseller; like The Marriage Plot, it's a robust, rich story of adults in a love triangle. Eugenides benefits by the comparison: This book is sweeter, kinder, with a more generous heart. What's more, it is layered with exactly the kinds of things that people who love novels will love." —Carolyn Kellogg, Los Angeles Times

"Eugenides steers effortlessly through the intertwining tales of his three protagonists, shifting seamlessly among their three viewpoints and overlapping their stories in a way that's easy to follow and never labored. His prose is smooth but never flashy, and his eye for the telling detail or gesture is keen. Slowly but confidently he fleshes out his characters, and as they slowly accrue weight and realism, readers will feel increasingly opinionated about the choices they make . . . It's heavy stuff, but Eugenides distinguishes himself from too many novelists who seem to think a somber tone equates to a serious purpose. The Marriage Plot is fun to read and ultimately affirming." —Patrick Condon, San Francisco Chronicle

"Eugenides, a master storyteller, has a remarkable way of twisting his narrative in a way that seems effortless; taking us backward and forward in time to fill in details . . . For these characters, who don't live in Jane Austen's world, no simple resolution will do for them in the world. And yet you close this book with immense satisfaction--falling in love just a bit yourself, with a new kind of marriage plot." —Moira Macdonald, Seattle Times

"Jeffrey Eugenides, in his glorious new novel, mines our thrall and eternal unease around sex, love and marriage . . . At its core, The Marriage Plot is besotted with books, flush with literary references. It seems coyly designed to become the volume all former English majors take to their breasts." —Karen Long, The Plain Dealer

"There has been a storybook quality to much American fiction recently--larger-than-life, hyper-exuberant, gaudy like the superhero comics and fairy tales that have inspired it. By sticking to ordinary human truth, Eugenides has bucked this trend and written his most powerful book yet." —Zachary Lazar, Newsday

"Befitting [Eugenides's] status as that rare author who bridges both highbrow book clubs and best-seller lists, his third novel is a grand romance in the Austen tradition--one that also deconstructs the very idea of why we'd still find pleasure in such a timeworn narrative style. It's a book that asks why we love to read, yet is so relentlessly charming, smart and funny that it answers its own question." —David Daley, USA TODAY

"There are serious pleasures here for people who love to read." —Leah Greenblatt, Entertainment Weekly

"Eugenides's first novel since 2002's Pulitzer Prize–winning Middlesex so impressively, ambitiously breaks the mold of its predecessor that it calls for the founding of a new prize to recognize its success both as a novel--and as a Jeffrey Eugenides novel. Importantly but unobtrusively set in the early 1980s, this is the tale of Madeleine Hanna, recent Brown University English grad, and her admirer Mitchell Grammaticus, who opts out of Divinity School to walk the earth as an ersatz pilgrim. Madeleine is equally caught up, both with the postmodern vogue (Derrida, Barthes)--conflicting with her love of James, Austen, and Salinger--and with the brilliant Leonard Bankhead, whom she met in semiotics class and whose fits of manic depression jeopardize his suitability as a marriage prospect. Meanwhile, Mitchell winds up in Calcutta working with Mother Theresa's volunteers, still dreaming of Madeleine. In capturing the heady spirit of youthful intellect on the verge, Eugenides revives the coming-of-age novel for a new generation The book's fidelity to its young heroes and to a superb supporting cast of enigmatic professors, feminist theorists, neo-Victorians, and concerned mothers, and all of their evolving investment in ideas and ideals is such that the central argument of the book is also its solution: the old stories may be best after all, but there are always new ways to complicate them." —Publisher's Weekly (starred review)

"In Eugenides' first novel since the Pulitzer Prize–winning Middlesex (2002), English major and devotee of classic literature Madeleine Hanna is a senior at Reagan-era Brown University. Only when curiosity gets the best of her does she belly up to Semiotics 211, a bastion of postmodern liberalism, and meet handsome, brilliant, mysterious Leonard Bankhead. Completing a triangle is Madeleine's friend Mitchell, a clear-eyed religious-studies student who believes himself her true intended. Eugenides' drama unfolds over the next year or so. His characteristically deliberate, researched realization of place and personality serve him well, and he strikes perfectly tuned chords by referring to works ranging from Barthes' Lovers' Discourse to Bemelmans' Madeline books for children. The remarkably à propos title refers to the subject of Madeleine's honors thesis, which is the Western novel's doing and undoing, in that, upon the demise, circa 1900, of the marriage plot, the novel 'didn't mean much anymore,' according to Madeleine's professor and, perhaps, Eugenides. With this tightly, immaculately self-contained tale set upon pillars at once imposing and of dollhouse scale, namely, academia ('College wasn't like the real world,' Madeleine notes) and the emotions of the youngest of twentysomethings, Eugenides realizes the novel whose dismantling his characters examine." —Annie Bostrom, Booklist (starred review)

"A stunning novel--erudite, compassionate and penetrating in its analysis of love relationships. Eugenides focuses primarily on three characters, who all graduate from Brown in 1982. One of the pieces of this triangle is Madeleine Hanna, who finds herself somewhat embarrassed to have emerged from a "normal" household in New Jersey (though we later find out the normality of her upbringing is only relative). She becomes enamored with Leonard, a brilliant but moody student, in their Semiotics course, one of the texts being, ironically, Roland Barthes' A Lover's Discourse, which Madeleine finds disturbingly problematic in helping her figure out her own love relationship. We discover that Leonard had been diagnosed with bipolar disorder during his first year at Brown, and his struggle with mood swings throughout the novel is both titanic and tender. The third major player is Mitchell, a Religious Studies major who is also attracted to Madeleine but whose reticence she finds both disturbing and incomprehensible. On graduation day, Leonard has a breakdown and is hospitalized in a mental-health ward, and Madeleine shows her commitment by skipping the festivities and seeking him out. After graduation, Leonard and Madeleine live together when Leonard gets an internship at a biology lab on Cape Cod, and the spring after graduation they marry, when Leonard is able to get his mood swings under temporary control. Meanwhile Mitchell, who takes his major seriously, travels to India seeking a path--and briefly finds one when he volunteers to work with the dying in Calcutta. But Mitchell's road to self-discovery eventually returns him to the States--and opens another opportunity for love that complicates Madeleine's life. Dazzling work--Eugenides continues to show that he is one of the finest of contemporary novelists." —Kirkus (starred review)

"'The way of true love never works out, except at the end of an English novel.' So says Trollope in Barchester Towers, one of those English novels where 'the marriage plot' thrived until it was swept aside by 20th-century reality. Now Roland Barthes's contention that 'the lover's discourse is today of an extreme solitude' better sums up the situation. Or so English literature–besotted Madeleine, 1980s Brown graduating senior, comes to discover. Giving in to the zeitgeist, Madeleine takes a course on semiotics and meets Leonard, who's brilliant, charismatic, and unstable. They've broken up, which makes moody spiritual seeker Mitchell Grammaticus happy, since he pines for Madeleine. But on graduation day, Madeleine discovers that Leonard is in the hospital--in fact, he is a manic depressive with an on-again, off-again relationship with his medications--and leaps to his side. So begins the story of their love (but does it work out?), as Mitchell heads to Europe and beyond for his own epiphanies. VERDICT Your standard love triangle? Absolutely not. This extraordinary, liquidly written evocation of love's mad rush and inevitable failures will feed your mind as you rapidly turn the pages. Highly recommended." —Barbara Hoffert, Library Journal (starred review)