Stephen Shore: Uncommon Places: The Complete Works (Hardcover)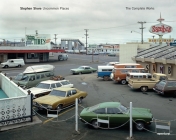 $65.00
Usually Ships in 1-5 Days
Staff Reviews
---
*** December 2009 Newsletter Pick ***

There's an aesthetic I like to call "the good ugly." Clunky old cars, crumbling signage, mid-century architectural flourishes that once were cutting-edge but now just seem bizarre: this is where the fugly becomes fabulous, and I love it all. Chances are, you know some slightly offbeat person who does, too, and this person will go gaga over photographer Stephen Shore's Uncommon Places. Initially published in 1982, the new "Complete Works" - what Shore likens to a "director's cut" version - contains all the original landscape images gleaned from Shore's trips across the country during the 1970s, as well as newly-published interiors and portraits shot at the same time. The result resembles a road trip in a flux capacitor-powered DeLorean: a glorious tour of kitschy '70s Americana that's full of images that are at once hideous and strangely beautiful. By preserving these forgotten relics of another era, Uncommon Places creates not only delicious nostalgia for the past, but also pleasing questions about the future, and how our own everyday vistas and objects will be viewed through that faraway eye.
— From
Anna
Description
---
Originally published in 1982, Stephen Shore's legendary Uncommon Places has influenced more than a generation of photographers. Shore was among the first artists to take color beyond the domain of advertising and fashion photography, and his large-format color work on the American vernacular landscape inaugurated a vital photographic tradition. Uncommon Places: The Complete Works, published by Aperture in 2005, presented a definitive collection of the landmark series, and in the span of a decade has become a contemporary classic. Now, for this lushly produced reissue, the artist has added nearly 20 rediscovered images and a statement explaining what it means to expand a classic series. Like Robert Frank and Walker Evans before him, Shore discovered a hitherto unarticulated vision of America via highway and camera. Approaching his subjects with cool objectivity, Shore retains precise systems of gestures in composition and light through which a hotel bedroom or a building on a side street assumes both an archetypal aura and an ambiguously personal importance. An essay by critic and curator Stephan Schmidt-Wulffen and a conversation with Shore by writer Lynne Tillman examine his methodology and elucidate his roots in Pop and Conceptual art. The texts are illustrated with reproductions from Shore's earlier series American Surfaces and Amarillo: Tall in Texas.
At age 14 Stephen Shore (born 1947) had his work purchased by Edward Steichen for The Museum of Modern Art, New York. At 17 Shore was a regular at Andy Warhol's Factory, producing an important photographic document of the scene, and in 1971 at the age of 23 he became the first living photographer since Alfred Stieglitz 40 years earlier to have a one-man show at the Met. He has had numerous one-man shows, among others at The Museum of Modern Art, New York; George Eastman House, Rochester; Hammer Museum, Los Angeles; and The Art Institute of Chicago. Since 1982 he has been Director of the Photography Program at Bard College, Annandale-on-Hudson, New York.