Tea and Cake with Demons: A Buddhist Guide to Feeling Worthy (Compact Disc)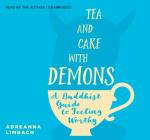 $29.95
Special Order - Please call to confirm availability
Description
---
This is the book on Buddhism the new generation has been waiting for.

If the Buddha were alive today, what would he say about the unique challenges we face? In Tea and Cake With Demons, NYC-based mindfulness and meditation teacher Adreanna Limbach shares a down-to-earth, often humorous, and delightfully insightful discussion of Buddhism through the lens of modern life--and all our cultural, technological, and still-timeless obstacles.

So many of us go through our days feeling overwhelmed. We do our best to navigate the craziness of the modern world--finding a purpose while making ends meet, going down social media black holes but craving meaningful relationships, and maintaining a healthy lifestyle in a society that seems to be falling apart . . .

At the end of the day, we have a sneaking suspicion of some fundamental flaw--our "demons" rear their heads, manifesting for many of us as a chronic sense of not-enoughness.

Using The Four Noble Truths and The Eightfold Path as a guide, Adreanna guides us to meet all our most common demons--shame, perfectionism, self-doubt, fixation--all while myth-busting the cultural narratives that keep us stuck.

Throughout Tea and Cake with Demons, Adreanna shares simple meditation practices, personal anecdotes, and traditional Buddhist tales that help you embrace the full experience of being human--even those pesky demons--and realize your fundamental, untouchable, and true self-worth.

About the Author
---
Adreanna LimbachAdreanna Limbach is the head teacher at MNDFL meditation studios and a personal development coach who helps women access their inherent clarity and confidence so that they can expand their freedom in business and life. She's practiced meditation for the last twenty years and has taught Buddhist studies, meditation, and the cultivation of self-worth since 2012 at locations across the globe. She has spent a decade mentoring do-gooders at the Institute for Integrative Nutrition as a coach, and she has catalyzed cohorts of tomorrow's leaders around social change as an executive coach and faculty member at the Institute for Compassion Leadership. Her work has been featured by the New York Times, Refinery29, Women's Health, and xoJane. She lives with her husband and too many small animals in an apartment in NYC. You can find out more at AdreannaLimbach.com.