Summits of My Life: Daring Adventures on the World's Greatest Peaks (Paperback)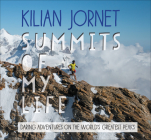 $24.95
Email or call for price.
Description
---
Kilian Jornet is the world's fastest mountain climber, ultrarunner, and ski mountaineer and his Summits of My Life project is his most ambitious achievement: the 29 year-old Spaniard challenged ascent and descent records for the world's most important mountains including Mont Blanc, the Matterhorn, Mt. Elbrus, Denali, Aconcagua, and Mount Everest. By using all his talent in ultrarunning, climbing, and skiing, Jornet made worldwide headlines with his jaw-dropping, superhuman climbs.
In this illustrated, info-packed, and awe-inspiring account, Jornet documents his successful attempts to set new roundtrip FKTs (fastest-known times) while following his own ethic of climbing simply, purely, with minimal gear, and with love and respect for the environment and the mountains. Summits of My Life includes his preparation, his successes and failures, facts and elevation maps, and mind-blowing statistics along with Jornet's personal commentary and inspiring photographs.
With every new record, Jornet achieves the unthinkable and pushes the boundaries of mountaineer, ultrarunning, and ski mountaineering. Now, as his project nears completion, Jornet's Summits of My Life will awe and thrill readers.
About the Author
---
Kilian Jornet is a world champion ultrarunner and ski mountaineer from Catalonia, Spain. He has not only set records on the world's most difficult ultramarathons like Ultra Trail du Mont Blanc, Hardrock 100, Western States 100, but he also holds the fastest known times for ascent/descent of the Matterhorn, Mont Blanc, Denali, and Mount Everest. Born in 1987, Jornet was raised in the shadow of the Spanish Pyrenees. By age 5 he had completed the ascent of Aneto, the Pyrenees' highest peak. Among his many accomplishments in trail and ultra running, he is the four-time champion of Europe's Skyrunner World Series, three-time champion of the grueling Ultra-Trail du Mont-Blanc, 2011 winner of the world's oldest 100-mile race, the Western States Endurance Run in California's Sierra Nevada, and two-time National Geographic Adventurer of the Year. He has set speed records on mountains across the globe, including Mount Kilimanjaro, Africa's highest peak. Jornet is author of Run or Die, available from VeloPress.