Sijo Shijo Goshijo: The Beloved Classics of Korean Poetry on the Matters of the Heart, Mind, and Soul (Paperback)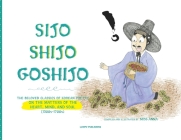 $14.99

Not On Our Shelves - Available within 1 to 5 Days
Description
---
The mountains green...
The waters blue...
Friends they were,
Sincere and true.
Ah, nature It was a nexus of inspiration. Poets embraced it and celebrated it. They praised its virtues as they savored the beauty of each season. Regarded as a friend, a teacher, a muse--nature inspired deep contemplations and reflections about love, life, and everything else that mattered to the human heart, mind, and soul. Needless to say, nature had a huge following and a huge poetic collection devoted to it The lofty green mountains, a moonlit night, the ever-flowing waters, and even a single stem of flower evoked wonders and stirred the hearts of the poets to compose these classical poetry called "goshijo".
So, if you are fascinated with everything Korean and if you just happened to cross paths with the world of sijo, do draw near and fancy a simple bloom and a starry night through the eyes of the poets of old.
Miss Anna wrote this book with a singular audience in mind--people all over the world who are aspiring to learn Korean, children included. Hence, she has poured in all her creative energy to make classical sijo, also called goshijo, more accessible to language learners. You will find in this book:
1. Vivid illustrations with captions in Korean and English.
2. A simple pronunciation guide for each word for the everyday English-speaking people (not the McCune-Reischauer transliteration nor the commonly employed Romanization of Korean which are geared more for language experts and the linguists of the land). Note that some sounds cannot be accurately transcribed and taught through a book. Therefore, to get the correct nuance of the Korean letters, please consult a native speaker of Korean.
3. The most accurate sense of words and meaning of the words (and groups of words) in English.
4. Definition of words and groups of words in modern Korean for native speakers of Korean as a way to refresh their understanding of the sijo.
5. The thematic undertone of each poem.
6. Miss Anna's version of the sijo in English. (In all cases, the inherent music and the overall rhythm of a language are forever lost in translation. Hence, she focused on providing the most accurate sense and meaning behind each sijo on behalf of the poets.)
7. A short story behind each poem and the poet. This narrative does much to provide a fuller and a richer understanding of the poem. As the reader gets acquainted with the historical backdrop behind each piece, he/she will perceive its underlying emotions as well.
This book contains twenty favorites of the Korean poetry called sijo, 'shijo' to pronounce it correctly. Putting aside everything political, there are poetic contemplations from nature, poetic expressions of love, and poetic advises and admonitions that still ring true in the 20th century. Included are two poems written by the famous courtesan, Hwang Jini, and a masterpiece-of-a-poem composed by the Grand Prince Wolsan. Elegant and classic, all twenty of these poems are masterpieces still loved and cherished by the Korean people today. As a fun aside, you will also learn why artists celebrated the chrysanthemums and drew painting after paintings of these sumptuous blooms and why, ironically, you have to think twice before buying the mums as a gift. Buy the book and discover the timeless gems that have preserved the passing thoughts and the flutter of emotions from a yonder time.