Del Mar - Sunday September 18th at 3 pm - Patricia Schultz discusses and signs "Why We Travel"
Join us Sunday September 18th at 3:00 pm
as we welcome Patricia Schultz to the store to discuss and sign Why We Travel: 100 Reasons to See the World.
Pairing beautiful color photos with pearls of wisdom, lists, and essential travel tips, Why We Travel focuses not on where or when to travel, but on how travel enriches us and why we choose to travel. Schultz leads with the idea that travel is food for the soul and one of the most richly rewarding experiences we can have, whether we travel near or far, in person or virtually. Quotes about travel, affirmations, ideas, and travel hacks appear alongside gorgeous, transportive full-color images of people, places, and things around the world; from a man hand-rolling cigars in Cuba to a woman at a sari market in Rajasthan, India; humpback whales in Norway and a lion cub in Botswana; cave dwellings in Italy, ger camps in Mongolia, and the underground churches of Lalibela, Ethiopia; and stunning natural wonders like Valley of Fire State Park in Nevada and the Waitomo Glowworm Caves in New Zealand. Alongside these evocative images are Schultz's own stories of some of her most rewarding trips, like going on safari in Zambia, exploring Florence in her post-collegiate days, and finding her most lasting memory in a classroom of five-year-olds.
Exploring the concept of travel as an investment in oneself, Why We Travel encourages readers to travel with an open heart and open mind, and reveals how doing so can make one a better person.
Patricia Schultz is the author of the #1 New York Times bestsellers 1,000 Places to See Before You Die and 1,000 Places to See in the United States and Canada Before You Die. She is a veteran travel journalist with over thirty years of experience, writing for Frommer's, Berlitz, and Access travel guides, as well as the Wall Street Journal, Condé Nast Traveler, and other magazines and newspapers. Her home base is in New York City, but good luck finding her there!
Event date:
Sunday, September 18, 2022 - 3:00pm
Event address:
Diesel, A Bookstore Del Mar
12843 E Camino Real Suite 104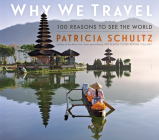 $24.95

ISBN: 9781523510979
Availability: Not On Our Shelves - Available within 1 to 5 Days
Published: Workman Publishing Company - September 13th, 2022
---