Brentwood- An evening of songs and stories with Peter Yarrow of Peter, Paul and Mary
Diesel, A Bookstore in Brentwood welcomes Peter Yarrow to the store to discuss and sign Peter, Paul and Mary: Fifty Years in Music and Life on Tuesday, November 11th at 6:30pm.
PLEASE NOTE: Attendance to this evening of songs and stories is free. However, seats can be reserved with advance purchase of a copy of Peter, Paul and Mary: Fifty Years in Music and Life from DIESEL, A Bookstore in Brentwood. Please call the store at 310.576.9960 for more information.
Peter, Paul and Mary came into being at the dawn of John F. Kennedy's presidency, as America entered one of its most dramatic periods of social and political change. With music being one of the great binding forces Americans united in unprecedented ways in search of a more just and peaceful society. This is the first and only book that visually tells us the intimate story of Peter, Paul, Mary, and their music. Thousands of photographs, many rare and never before published, taken over five decades, follow the trio from their earliest performances. From the historic 1963 March on Washington with Martin Luther King, Jr., to their appearance before a half million people in 1969 to end the Vietnam War, to helping to launch the anti-nuke movement at the Hollywood Bowl for Survival Sunday in 1978, these images capture the trio's call for a more caring, better world. Their courage and conviction created the soundtrack to their generation's awakening to conscience, to activism, and to a new dream for all of humankind. Peter, Paul, and Mary's songs are still a powerful part of our American consciousness, and this is the visual history of how the iconic trio inspired generations.
Event date:
Tuesday, November 11, 2014 - 6:30pm
Event address:
DIESEL, A Bookstore in Brentwood
225 26th St., Suite #33
us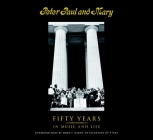 $35.00
ISBN: 9781936140329
Availability: Usually Ships in 1-5 Days
Published: Imagine/Peter Yarrow - November 4th, 2014
---