Brentwood - Saturday January 21st - Brentwood School Parent University
Brentwood School Parent University Saturday January 21st From 8:30 am to 1:30 pm at Brentwood School.
This event is free to attend and will be held at Brentwood School. THIS EVENT WILL BE HELD AT BRENTWOOD SCHOOL AND NOT AT THE BOOKSTORE.
Brentwood School
100 S. Barrington Place
Los Angeles, CA 90049
Purchase Dr. Tracy Dennis-Tiwary's Book Here
Purchase Dr. Belle Liang and Tim Klein's Book Here
PRESALE BOOK PURCHASES WILL BE AVAILABLE FOR PICKUP AT THE EVENT ON SATURDAY JANUARY 21st.
Parent University
Every other year, the Brentwood School Parents Association hosts Parent University, a conference on a wide range of parenting topics presented by a variety of outstanding guest speakers.
Keynote and breakout sessions are designed to engage both parents and those who work with students in the latest research in parenting topics. Previous sessions have addressed emotional intelligence, building resilience, healthy eating, supporting kids in sports and the college process, dealing with resistance and conflict, and more. This half-day event is open to the public.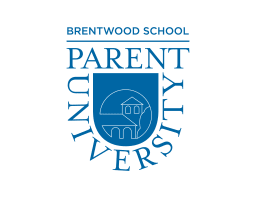 Parent University 2023:
Cracking the Code on Anxiety, Pressure, and Purpose
SATURDAY, JANUARY 21, 2023
8:30 A.M. - 1:30 P.M.
As families emerge from a global pandemic, we find ourselves navigating a more challenging landscape than ever before. From expectations around parenting to changing academic landscapes, parents/guardians, students, and teachers alike are feeling the pressure and looking for answers. With that in mind, please join us as we focus on some very important issues facing families today, starting with understanding the true nature of anxiety, how it affects us, and how to help our kids cut through the stress of performance pressure to find purpose.
Veterans receive FREE tickets to this event. For more information and to register for your complimentary ticket, please email vcre@bwscampus.com.
Opening Keynote
Why Anxiety is Good for you (Even though it Feels Bad)
Conan O'Brien in conversation with Dr. Tracy Dennis-Tiwary
Confronting the pervasive misunderstanding of anxiety and presenting a powerful new framework.
Breakout Sessions
Raising Good Humans with Dr. Aliza Pressman
Social Anxiety: Why Inclusion and Belonging Matter with Carley Dryden and Jason Wang
How to Create Optimism and Reduce Stress in Our Daily Lives with Dr. Deepika Chopra
Raising Digitally Resilient Young People with Dr. Erica Pelavin from My Digital Tat2
Closing Keynote
How to Navigate Life: The New Science of Finding Your Way in School, Career, and Beyond
Dr. Belle Liang and Tim Klein
An essential guide to tackling what students, families, and educators can do now to cut through stress and performance pressure and find a path to purpose.
Event date:
Saturday, January 21, 2023 -

8:30am

to

1:30pm