Thursday, March 21st @ 6:30 pm - The Ultimate Droodles Compendium Celebration
DIESEL, A Bookstore welcomes Fritz Holznagel, Claudia Sloan, and Jason Stuart to the store on Thursday, March 21st at 6:30 pm to celebrate the newly released The Ultimate Droodles Compendium: The Absurdly Complete Collection of All the Classic Zany Creations by Roger Price on what would have been his 101st birthday this March. Join us in the courtyard for a fun night of revisiting this blast from the past and play along captioning some Droodles. Actor/comedian Jason Stuart will be the MC for the "Caption the Droodle" contest and it is sure to be a fun time! The winner of the best caption will receive a free copy of the book and there will be Droodle swag for the runners up, all courtesy of the publisher.
Before the inspired nonsense of Monty Python, David Letterman, and the Far Side, there were Droodles. With a few squiggles in a simple square, these clever drawings created absurd scenes like "Ship arriving too late to save a drowning witch" (used by Frank Zappa as an album cover, see below), "Octopus signaling for a left turn" and "Clam with buck teeth." They were all the creation of one brilliant and unpredictable man: Roger Price.
At the height of their popularity in the mid-1950s, fans enjoyed the Droodles TV show, a Droodles daily newspaper column, Droodles magazine features, Droodles cocktail napkins, even Droodles in ads for Lucky Strike cigarettes. Like hula hoops, drive-in movies and UFOs, Droodles were one of the biggest fads of the 1950s. Now Droodles make their triumphant return to delight a new generation that can use some laughs. The Ultimate Droodles Compendium includes every one of Roger Price's 352 most famous Droodles in delightful new full-quality reproductions, with Price's inspired text and quirky footnotes.
Also included is the foreword by beloved media critic Leonard Maltin reminiscing about Roger Price/Droodles, a full history of Roger Price and Droodles by Emmy-winning writer Fritz Holznagel, and comments from comedy legend Carl Reiner, Boing Boing's Mark Frauenfelder and Carla Sinclair. Droodles are back in this handsome, hilarious, ultimate collection from Tallfellow Press. Droodles now. Droodles forever!
Fritz Holznagel is the Emmy-winning writer of the CBS special A Claymation Easter Celebration and the co-creator of the groundbreaking online encyclopedia Who2. He has written for digital media from The Dictionary of American History to Where in the U.S.A. is Carmen Sandiego? and his books include The World Wide Web Top 1000 and Secrets of the Buzzer. A past winner of the Jeopardy! Tournament of Champions, he represented the USA at the first-ever Jeopardy! Olympic Tournament.
Claudia Sloan grew up with books... literally. Some of her earliest memories are of spending time with her father at the office of Price Stern Sloan publishers in Los Angeles. Price Stern Sloan published such books as Mad Libs, Droodles, Murphy's Law, How to be a Jewish Mother, the Serendipity Series, the World's Worst Jokes series, the Mr. Men and Little Miss series, and the Wee Sing series. After several years at Universal Studios, she went to work at Tallfellow Press, the new publishing company founded by Larry Sloan and Leonard Stern after Roger's death. Tallfellow and their children's imprint, smallfellow, publish an eclectic mix of books, from humor to inspirational to non-fiction to entertainment, including the bestselling Write Screenplays that Sell – the Ackerman Way by veteran UCLA professor Hal Ackerman.
Jason Stuart is well-known for his work as an actor playing gay & straight roles on over forty popular television shows including Sleepy Hollow, Entourage, The Closer, Will & Grace, George Lopez, Everybody Hates Chris, House, It's Always Sunny in Philadelphia and Charmed, to name a few. Stuart has become a major player in the independent film world after being nominated for a Gay International Film Award for best supporting actor in Coffee Date. He has also produced and starred in his own totally improvised independent film 10 Attitudes and directed and starred in the award-winning web series Mentor. He is also an outrageous openly gay stand-up comedian whose work transcends the boundaries of race, gender and sexual orientation with his edgy comedic style. He is the National Co-Chairman of the first ever SAG / AFTRA, LGBT Committee, and also chaired the comedy shows for Lifeworks Mentoring Program for 8 years. He currently fosters and mentors youth.
Remember this famous Droodle that Frank Zappa used as an album cover? We can't wait to see what captions you come up with at the event!
Event date:
Thursday, March 21, 2019 -

6:30pm

to

7:30pm
Event address:
DIESEL, A Bookstore
225 26th Street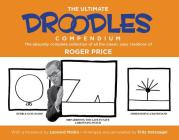 $16.95
Email or call for price
ISBN: 9781931290692
Published: Tallfellow Press - March 6th, 2019
---